Jan's Humor Keynotes & Comedy Shows
are Perfect for Business Events!
If you're looking for a fun keynote speaker with PRACTICAL tips, then hire comedian and professional speaker Jan McInnis. Before setting foot on stage, Jan McInnis spent 15 years as a marketing executive where she collected a ton of hilarious material for her keynotes! And now, for the past 18+ years, Jan's keynotes have been a hit at hundreds of association and company conventions, fundraisers, employee retreats, banquets and more where she has left a trail of happy clients. Jan is a veteran professional speaker and comedian who will make YOU look good for booking her! Checkout Jan's bio.
All of Jan's keynotes include her hilarious humor and are sprinkled with lots of relatable stories and immediately usable tips. Jan was featured in the Wall Street Journal  as one of the top convention comedians whose act is clean, and in the Washington Post  for her clean comedy writing.
Jan's Keynotes
All of Jan's keynotes are customized with information on your group!
800-492-9394
Happy Clients & Quotes
"You were the absolute perfect start to our annual conference! With all of the things affecting healthcare today, we as practice administrators live in a world of doom and gloom. It was great to start our conference out with some humor and you gave us relevant ways to inject humor into our daily jobs! I believe laughter is the best medicine and your act really set the stage for the rest of our conference. You have a true knack for tailoring your routine to relate to the individuals you are speaking to. Thank you for doing an amazing job!" Health Care Client
"As an event planner, you made my job that much easier and made me look good. Many attendees complimented me on your selection as one of our keynote speakers. In fact, one of our partners from the Maryland State Department of Education (MSDE) stopped me in the hall and enthusiastically asked me, "Where did you find her?' She continued to ask me more details about you." Education Client
"You were great! You listened to what our goals were for the event and you wrote specific material just for us. You also incorporated your humor into our event and the adlibbing was right on the mark. Your program was really hit well with our attendees!" Women's Event
"Thank you for helping to make our conference a success. Your presentation "Finding the Funny" demonstrated to our staff the health benefits of laughter and how to use it in a professional setting to introduce tough conversations and assist in getting a point across. During your presentation, you kept our staff engaged and your energetic delivery was contagious. We appreciate you joining us for breakfast and taking time to learn more about our organization. Tying some of our day-to-day procedures into your presentation added a nice touch, which was appreciated." Financial – Federal Reserve Bank
"I can tell you what one of the conference advisory group members said to me as she walked out. She said, 'She is hilarious. Excellent way to end the conference!'" HR Client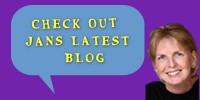 Subscribe to Blog via Email
Connect with Jan here!
Jan's Newsletter