FINDING THE FUNNY FAST!  How to Create Quick Humor to Connect with Clients,Coworkers & Crowds
Stop being boring NOW! The money you're losing, the people you're "turning off" and the opportunities you're missing are HUGE if people don't pay attention to what you write or say. So grab them and make them interested in your communications by using humor! My book will show anyone how to add humor to their speech, memo, email, advertisement or whatever it is you're working on.
The advantages of using humor are BIG. Humor is the best way to make your communications memorable, connect with clients, prospects, employees, and coworkers immediately, keep people interested in what you have to say, and sell a product, service or idea. So buy my book and be more effective with everyone you're communicating with NOW!
I've sold humor material to everyone from the Tonight Show monologue to CEO's punching up a speech and sales people connecting with clients and potential clients. My tips are easy and the book is a fast read so you can start putting these tips into practice immediately. Humor works!
Book is $12.95 + $2 shipping – this is for shipping in the U.S. Please contact Jan for other countries!
Sample of Finding the Funny Fast.pdf
---
Convention Comedian!    
Stories and Wisdom from Two Decades of Chicken Dinners and Comedy Clubs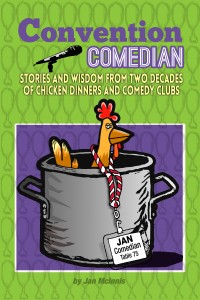 What's it like to be a full-time comedian? You can find out in these pages. Jan has spent more than two decades as a professional comedian, touring throughout the United States and making people laugh in all sorts of venues from traditional comedy clubs to unique convention stages. And no, it isn't all smooth sailing! She's had to contend with weird room set ups such as the floor spinning her around 360 degrees and tough bar gigs where the owner didn't want her to do "thinkin' jokes." All of these experiences have given Jan some valuable insights into dealing with people that will resonate with you regardless of what profession you're in. She shares this wisdom along with her stories to give you a peek inside her unusual and fascinating profession.
Book is $12.95 + $2 shipping – this is for shipping in the U.S. Please contact Jan for other countries!
Contact Jan@TheWorkLady.com to get her free article on how to write humor
---
CUBICLE COMEDY™ CARDS!
You can't play cards at work, but you can play cards with work humor – Jan's Cubicle Comedy™ Cards have some of her work jokes as well as tips for surviving the office. Want to know how to eat for free in the office (and no, we don't mean steal someone's lunch!)? or how to craft the perfect exit e-mail that will be sure to start a riot among staff, or maybe you're forced to sit through endless boring staff meetings and you need some tips on how to endure them without getting into trouble! It's all in Jan McInnis's Cubicle Comedy™ Playing Cards where you'll learn all these tricks and more for surviving the office. And some of these creative ideas might just work!
Cubicle Comedy™ Playing Cards are the perfect gift for someone in your office, especially those who are stressed out and need a laugh. Whether you have to find that annoying Secret Santa gift for someone in the office whom you barely know, or stuff a stocking for an over-stressed friend, or perhaps come up with a white elephant gag gift for a party, Cubicle Comedy™ Playing Cards will fit the bill. Don't fret anymore about what to give!
In addition to work advice, the cards also include jokes from comedian Jan McInnis's popular comedy act. Some of her comedy on the cards includes "I thought the benefits at my last job were good. They said we got 20 days off a year. They meant 10 weekends©" And "When you manage people you learn a lot of stuff . . . like most relatives die on a Friday©."
Cubicle Comedy™ Playing Cards is an actual deck of playing cards, so you can use them to play cards, and you'll get an added bonus of laughing the whole time.
Cards are $10 + $2 shipping
http://tinyurl.com/dollsholiday
Jan has written humor for everyone. . .here's a few quotes from clients:
"A must read for anyone who wants to make an audience laugh. If you want to learn how to create comedy from an established pro, buy Jan's book."  Peter Charkalis,  Former staff writer for the Late Late Show with Craig Kilborn and the Late Late Show with Craig Ferguson
"Jan has been a daily contributor of fantastic topical joke material for our morning radio prep service for over a decade.  She's dependable, hard working and very funny.  What else would you want?"C. R., Head Joke Writer, Radio Prep Service
"Jan has contributed daily, topical jokes to (our radio show prep service) for more than ten years, and I've always admired her ability to write comedy that's funny without being dirty or offensive.  It takes true comedic talent to be able to do this. That's why companies love to have her perform at their corporate events. They know she's going to entertain their employees without making anyone feel uncomfortable.  If you're a public speaker, isn't that part of what you do?  Why haven't you called Jan yet?" B. C., Owner, Radio Prep Service
"Jan, I spent five painstaking years crafting my first keynote…sweating over each line.  With your expert help, my second keynote will be ready to launch in a few short weeks.  Your ability to mine for "hidden humor moments" in my scripts was shockingly effective.  Massive opportunities for mega-laughs that were under my nose…but unnoticed.  You quickly understood my comedy "voice" and wrote razor-sharp gags (not just amusing chuckles, but wickedly effective lines) that even a rookie speaker could use to jump start their career."   S.B., Professional Speaker
"I've worked with several comedy writers over the years, to help me "punch up" my speeches. None of them ever came up with as many jokes that fit my working style as Jan. She really has the gift. I don't think I'll ever stop working with her. She keeps giving me funny stuff that works for me. I can't recommend her enough."  B.B., Professional Speaker
"You continue to amaze!  Your wit, timing and flair for relevance was apparent during your comic routine at our corporate event in Denver last month.  It was impressive.  Being a person that fancies myself as a critic with a funny bone, I was intrigued by your work.  This led me to ask you to consider writing some jokes for me. . .as I give many keynote speeches and other presentations.  The jokes you provided in a timely manner were well crafted and relevant. It was really kind of fun to integrate your jokes into the speech.  The speech received excellent reviews.  The combination of you and I resulted in an effective fundraiser. Just as you had done for your performance last month, I thought you did an excellent job of targeting the jokes to the intended audience.  I thank you for your work and I look forward to continuing our relationship."  K.W., President, National Association of Blind Merchants